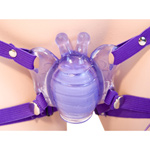 Author: Godtopussy
The best sex toys are ones that you love to play with either alone or with a friend. The Waterproof Venus Butterfly Clitoral Massager is definitely one such toy.
The Venus Butterfly is a strap-on clitoral vibrator. The vibrator is a little 3" bullet that fits into a small butterfly-shaped harness worn so that the butterfly sits right on the clitoris. It's battery powered (runs on watch batteries as specified on the packaging), has 7 settings that run from a low speed vibrate to an escalating function, and you can use the bullet with or without the harness - so if you wanted to put it somewhere else, you can.
The best feature, though, has to be that it's remote controlled. This means that you and a willing partner can have a great time together anywhere you want - in the bedroom, in the bath (it's waterproof), even in public. The vibrator can be worn underneath clothing - it's easier to wear under a skirt, but it can be worn with pants. And it's rather exciting to give the controls over to someone else - I'd just recommend it's someone you trust. It runs quietly, which is definitely a plus for public uses, and the remote works from a good distance away - you don't even have to be in the same room.
So it sounds like a good time. But is it worth your money?
Yes, yes it is. For a small little bugger, it's a powerful vibrator. Now, it is meant for clitoral stimulation mainly, so if you require more than that to reach orgasm, you might not be satisfied. It can be used during sex or during some form of penetration, but it gets a little awkward and you have to find the right position or things don't quite line up as they should. The remote works very well and it even works in the shower, but I can't vouch for underwater usage. And it's very easy to clean, which is always a plus for sex toys.
One downside, however, is that it does burn through batteries rather quickly, sometimes as quickly as two uses before they're dead. And there's nothing more disappointing than working up a frenzy and having the bullet suddenly cut out when you're ALMOST there. But overall, the Venus Butterfly is a fun toy for someone (or someones) looking to heat things up. You can find it at most adult shops or from online retailers like
EdenFantasys.com
, which is currently offering it for around 50 bucks. It's a great buy, but you may find yourself having to buy batteries in bulk.
Rating: 7/8 tentacles